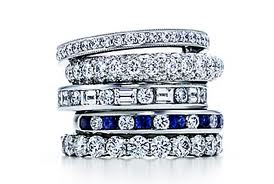 Eternity rings are symbols of everlasting love. Love for eternity. Eternal love. Love for someone that cannot be expressed by an engagement ring or wedding ring. Eternity rings are the best way to show someone you care and they can be given within an engagement or marriage or between lovers or friends.
Eternity rings are perfect to celebrate anniversaries within a relationship, birthdays, the birth of a child and any important event. The fluid and continuous design of eternity rings make this jewellery the perfect gift to symbolise the past, present and the future.
Eternity rings can be worn alone or paired with an engagement ring and wedding ring. Sometimes in a relationship, an eternity ring will be given first as a promise ring ready for the future engagement and marriage. Or it can represent the solid relationship between a couple who may have previously been married, widowed or divorced and who want an eternity ring to show their love.
Eternity rings were introduced in the 1960's by De Beers and aimed at the husbands of older, married women to encourage them to demonstrate with the eternity rings that their love had grown over the years. Eternity rings were given after the birth of a child to celebrate the solidity of the relationship and new family unity.
Full Eternity Rings – these beautiful and sensuous rings have gemstones that go all the way around the band. With the maximum area covered in glittering gemstones, the full eternity ring sparkles and truly reflects the principle of everlasting eternal love and friendship.
Half Eternity Rings – as the name implies, half eternity rings contain approximately half the gemstones of full eternity rings. The semi-circle of gemstones can be more comfortable to wear as the underside of the band is flatter and more practical for everyday wear.
Eternity rings can contain any number of gemstones, or gemstones for a birth month, such as a diamond eternity ring for someone born in April. Eternity rings are typically worn on the same finger as an engagement ring and/or a wedding ring.
Eternity rings are the perfect ring to symbolise your love, friendship and family. Many eternity rings purchased from Rings.org.uk have free UK delivery and 5 year guarantee. With over 10,000 rings to choose from, don't wait forever, choose your eternity rings and have them delivered in time for Christmas.