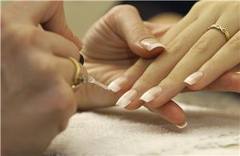 Wedding rings are on show for everyone to see on your wedding day and from that day onwards. So it makes sense to take care of your hands before the ceremony. When you're having your hair and makeup perfected this is a great time for a manicure so that your rings look great on your ring finger.
Chipped or broken nails can take away the beauty of your engagement rings and wedding rings. Yet a simple routine check up for your nails will make your rings look even more amazing no matter how many people want to see them. Rings.org.uk has a five step manicure to ensure your nails look as perfect as your rings.
Step 1 – Remove Old Polish
Using an appropriate nail polish remover (there are different brands for normal polish, acrylic nails etc) pour a small amount on to a cotton wool ball or small square of household kitchen roll. Gently wipe away the nail polish stroking your nail in circular motions until all of the old polish has gone.
Step 2 – File Your Nails
To accentuate your engagement rings and wedding rings your nails will need to be finished smoothly at the edges. Whilst a round finish is perhaps the most popular square ended nails are chic and fabulous when combined with a French manicure. Use a simple emery board to rub your nails up the edge towards the middle for the best finish.
Step 3 – Correct Cuticles
Cuticles are the soft skin at the base of your finger nail. This area can make or break the appearance of your finger nail as rough cuticles will make it hard to achieve a smooth finish when you apply the nail polish.
Step 4 – Apply Nail Polish
When choosing the nail polish for your wedding day consider the metal your wedding rings are made of and choose silver nail polish to highlight silver wedding rings or gold polish to enhance your gold wedding rings. Or choose something bright like pink or orange to contrast with your rings instead.
Step 5 – Correct Any Mistakes
The final step, hopefully someone else will do this for you if you have minutes before the wedding, is to correct any splashes, overruns or any mistakes that will take the attention away from your beautiful rings.
Remember to keep your hands in great condition so your rings look perfect all year round. For a stunning collection of rings, engagement rings, wedding rings and more simply check out the selection at Rings.org.uk.