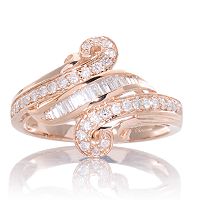 Rose gold rings contain the beautiful rich colours of summer turning to autumn. With echoes of falling leaves and an antique chic quality rose gold rings make eye catching rings perfectly suited to engagement rings, wedding rings and simply rings for any occasion at all.
You'll find a beautiful collection of rose gold rings at Rings.org.uk the UK's number one ring comparison site. With over 15,000 rings selected from your favourite High Street and online stores you can choose your rings and place secure online orders to have precious rings delivered direct to your door.
Rose gold rings are available in mens rings and ladies rings sizes and choosing matching his and hers rose gold rings can be a wonderful way to celebrate your marriage and relationship with each other.
Rose gold is less popular than traditional yellow gold and sleek white gold however this makes this metal unusual and unique. Rose gold rings are also known as pink gold rings as the touch of copper added to the gold achieves the rustic rose colouring.
For men rose gold can be closer to skin colour and blends subtly on the hand whilst achieving the romantic bond with a rose gold wedding ring or the family unity or club membership with a rose gold signet ring.
For ladies rose gold rings are even more beautiful when combined with autumnal colours such as pastel shades, browns, beiges and cream. Accessorising with pretty rose gold earrings and a rose gold bracelet will complete your new look.