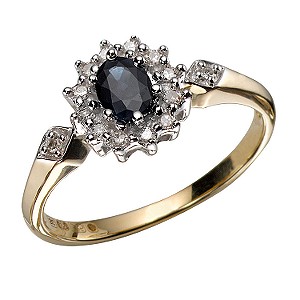 This elegant diamond and blue sapphire ring modelled on Lady Diana's world famous engagement ring now worn by Kate Middleton who will shortly be wed to Prince William is the perfect way to celebrate the Royal Wedding.
This stylish diamond and blue sapphire ring is a modern take on a vintage design and is crafted in 9ct yellow gold and set with diamonds and blue sapphire.
Diamonds are the birthstone for April and sapphire is the birthstone for September. Combining these two precious gemstones in this chic design is surely a token of utmost love and affection. Sensuous sapphire contains the cool blue gemstone to remind you of summer days and ocean bliss with sparkling diamonds dazzling in the sunshine.
Prince William chose this ring with a history of sentimental memories that will be carried through the next generation. The calming blue sapphire ring has a conservative tone that can be worn on any finger including the traditional ring finger reserved for engagement rings and wedding rings.
Choose this version of the Royal engagement ring as a lasting memory of the magical wedding later this month between Prince William and Kate Middleton. Their romance has been as much a fairytale as Prince Charles and Princess Diana before them and by purchasing a diamond and blue sapphire ring will serve as a lasting token to celebrate this magnificent wedding.
As well as the Lady Diana Royal Engagement Diamond And Blue Sapphire Ring you'll find over 10,000 rings available at Rings.org.uk. Specialising in wedding rings, engagement rings and rings with many beautiful gemstones you'll be able to compare stunning rings and have them delivered straight from High Street brands you know and trust.