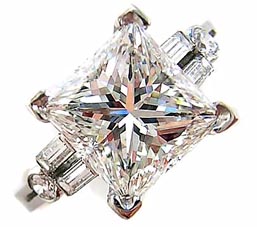 Engagement rings are the most desirable of rings not just for their beauty but because they are the worldwide symbol of a defined relationship embarking on the journey towards marriage and lifelong commitment.
Around 73% of brides will choose or influence the choice of their engagement ring. Perhaps a subtle hint towards an emerald engagement ring or a nudge towards a dazzling diamond engagement ring will help him choose. Many couples choose their engagement rings together either in the High Street or browsing online at Rings.org.uk for the perfect rings.
Rings are part of your personality and choosing the right rings is incredibly important. After all your engagement ring might well sit on the third finger of your left hand for the rest of your life. With your favourite gemstone chosen you'll want to pick the style or cut and there are many to choose from.
Emerald Cut Rings
Not to be confused with an emerald ring with an emerald gemstone proudly on display. The emerald cut refers to an edgy rectangular shape for the gemstone. Diamonds with an emerald cut are sleek, chic and very fashionable. Prince Charles gave an emerald cut ring to Camilla Parker Bowles firmly establishing Royal connections to this fabulous design.
Round Cut Rings
Engagement rings with the traditional round gemstones are solid, reliable and beautiful rings that let light unfold deep into the diamond, sapphire or other precious stone. Solitaire diamond engagement rings often use the round shape to emphasise the deep beauty of the diamond ring.
Oval Rings
Oval engagement rings are modern and sophisticated. The stretched shape adds a new dimension to the traditional round cut and is the design favoured by Hollywood star Katie Holmes. Oval engagement rings offer many choices of elegant rings as well as dress rings and everyday rings you'll love to wear.
Marquise Rings
The marquise engagement ring is similar to the oval ring that can make a diamond ring look larger or more expensive than the diamond it might really contain. These engagement rings are big, bold and perfect to make a statement about your engagement.
Pear Rings
Rings with stones cut in the shape of a pear or tear drop are charming and enchanting. A different cut than round or oval, the pear shape ring effortlessly encompasses both designs with a gentle twist that suits women of all ages. These engagement rings are fabulous with diamonds, rubies, olive green peridot and many popular gemstones.
Princess Rings
Princess rings or princess cut rings are truly saving the best for last. This exquisite gentle square shaped cut is one of the most coveted and desirable cuts for any diamond engagement ring. On the face of the ring the princess cut is square shaped but below is an upturned pyramid of outstanding style and beauty to reflect and refract the light making the brilliant colours shine through the engagement ring.
At Rings.org.uk you'll find an amazing selection of over 10,000 rings from leading online brands such as The Diamond Store and High Street names you know and trust. Buy your engagement rings online with absolute confidence. Choose Rings.org.uk as the first place to find beautiful rings you'll love to wear and stunning rings you'll want to buy for the ones you love.