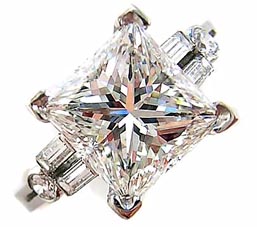 Engagement rings come in many different shapes and sizes. Whilst this offers a massive choice of engagement rings choosing the size is as important as choosing the ring itself. At Rings.org.uk we have tips to help you choose the right size rings.
Perhaps the easiest way is to go into your local jeweller or High Street store and have your finger measured for the correct ring size. If you can't get to the High Street or you want the ring to be a surprise there are alternative ways to measure for a ring.
If you are buying an engagement ring for your girlfriend or partner check her jewellery box for rings she may already own. Then simply measure around the circumference or edge for the centimetre or millimetre measurement.
Tip: Try using a tape measure as this will be more accurate than rolling the ring along a flat ruler.
When you have the measurement, check out the ring sizes using the Ring Size Chart at Rings.org.uk. Your measurement will correspond with one of the UK ring sizes such as size N, size R etc. This is your girlfriend or partner's ring size and you can now shop online to find her the perfect engagement ring.
But if you're still unsure or if she doesn't own any rings you can estimate her engagement ring size and still buy the perfect ring online. If you're way out on your estimate and the ring is too big or too small you will be able to resize the ring so she has the perfect fit for the perfect engagement ring you're giving to her.
You'll find a wide choice of perfect engagement rings at Rings.org.uk. Buy with confidence from trusted High Street and online retailers who will deliver your rings safely to your home or workplace.