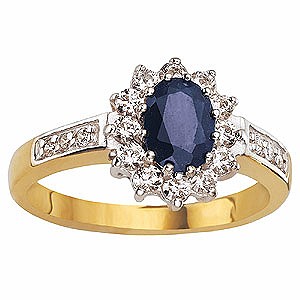 Cubic zirconia rings or CZ rings have the dazzling brilliance of pure diamonds and the elegance of wearing beautiful rings without the price restriction attached to precious diamond rings that you might fear wearing or spoiling. Cubic zirconia has been around for a long time and is not just a component of a budget ring but this material gemstone can be a trophy of beauty you'll love to wear on your ring finger.
Heart shaped cubic zirconia rings are very popular as promise rings and friendship rings. For couples who care more for each other than the price of the ring cubic zirconia rings are surely the romantic answer.
Cubic zirconia is also used to make replica rings such as the replica of Kate Middleton's famous sapphire and diamond ring where clear cubic zirconia represents the diamonds and blue cubic zirconia matches the effervescent sapphire glowing in the centre of the ring.
Choosing a cubic zirconia engagement ring or using cubic zirconia jewellery on your wedding day for a jewelled bracelet, tiara, earrings or necklace is the ultimate way to complete your look. Glittering cubic zirconia gems set in a tiara will sparkle at your ceremony and be a lasting reminder of your special day.
If you are fortunate to choose your own cubic zirconia engagement rings then take your pick from the fabulous selection of cubic zirconia rings at Rings.org.uk. Or if you are choosing a cubic zirconia ring for someone you like or someone you love then there are some delightful cubic zirconia rings that glow like diamonds and due to the limitless possibilities of stunning colours available in cubic zirconia you'll find gemstones that look like pink sapphires, emeralds, rubies and many more.