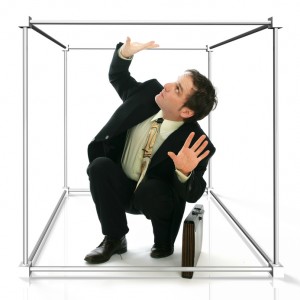 When trying on a ring in a jewellery store, or if you have borrowed a ring from a friend, you may have experienced a tight sensation when removing the ring. This is caused by the movement of the ring against your skin where your finger expands wider than the band of the ring. The ring becomes wedged, stuck or simply will not budge. If you are lucky and this happens at home it will be less embarrassing, but no less complicated to unstick the ring.
As a rule, never force the ring from your finger. There are many tried and proven techniques you can use. By forcing the ring in any way, the metal may bend tighter or break and cut your skin.
The easiest solution is ice or cold water to reduce the swelling so that the ring can slide off your finger. This is less messy than lubricants such as soap, moisturiser or oil which can be used to slide the liquid under the ring and loosen it. When using a lubricant, twist the ring left, right, backwards and forwards, loosening it with each twist until it becomes free.
Or if you have window cleaner at your disposal this is said to be very effective as a ring removing lubricant which doesn't stick or lodge within the intricate details of your ring. Spray the window cleaner liberally around your ring and finger for the maximum coverage and so that the ring can continue to slide further up your finger.
If all else fails and there isn't a long queue in the jewellers behind you, time is a great healer – drink lots of water and keep your hand with the stuck ring elevated. You should find that the ring that was stuck on your finger today will glide off easily after a good nights sleep.
In case of emergency, such as loss of circulation or worse, remember that you can ask professionals for assistance. Most jewellers will be able to help cut a ring safely from your finger, or you can ask advice from your health service.
To avoid getting a ring stuck on your finger, make sure you have your finger sized correctly by a jeweller so that you will know which ring size to buy. If you try on a ring and the size doesn't feel right, take it off and try the next size up or down.
Choosing the right ring, especially for an Engagement Ring or Wedding Ring is very important as you hope to wear the ring for life. When choosing your ring, remember to search the huge collection of Mens Wedding Rings and ladies rings from Rings.org.uk.