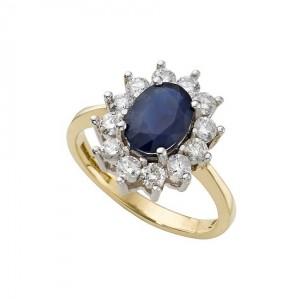 Sapphire rings and sapphire engagement rings are back with a passion as the world prepares for the Royal wedding between Prince William and Kate Middleton. To mark their historic engagement Prince William gave Kate Middleton the sapphire engagement ring worn by his mother, the late Princess Diana.
Rings with precious sapphire and diamonds like Kate's ring are worth thousands of pounds but similar sapphire rings can be found at Rings.org.uk, the leading rings comparison site with over 10,000 stunning rings including sapphire engagement rings and rings for every occasion.
Replica engagement rings and copy-cat rings in the style of Kate Middleton's sapphire engagement ring can be bought online from many of the High Street retailers and online brands featured on Rings.org.uk. Sapphire rings contain the birthstone for September and the Virgo star sign and the delicate navy to Royal blue shades of sapphire catch the light and sparkle with joy.
Sapphire engagement rings are available in ring sizes to suit lots of different shaped fingers and at Rings.org.uk we have a Rings Size Chart to help you select the right size. Choosing a Royal replica engagement ring has history and a story you can tell time and time again. Thanks to Princess Diana and future princess Kate Middleton sapphire engagement rings will have a place in British history for centuries to come.
Kate's gorgeous oval blue sapphire engagement ring surrounded by a cluster of sparkling diamonds is among the most famous rings in the world. Simultaneously celebrating Princess Diana's life the engagement ring marks the steps towards the beginning of Kate's married life in the Royal family and her journey with Prince William into the future.