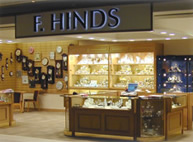 The story behind F.Hinds is one of a family owned and family run business that was established in the 1950's. F.Hinds jewellery shops continue to thrive both on the High Street and online today.
After celebrating 150 years in business in 2006, F.Hinds is the largest independent jeweller in the UK. With an impressive range of products including rings, earrings, pendants and more, the company's 1000 staff serve over 2 million customers every year.
In addition to more than 100 F.Hinds High Street shops in locations from Torquay in Devon across the country through England and Wales, customers can also choose jewellery online from Rings.org.uk where a selection of beautiful F.Hinds rings and jewellery is available to purchase.
F.Hinds has a superb standard of service, selection and quality. The core values of running a family owned business are eminent in the choice of engagement rings, wedding rings, watches and jewellery to suit every budget.
From modest beginnings, Joseph Hinds opened a clockmakers shop in Lincolnshire in 1825 and built up his business with responsibilities including maintaining the clock in one of Stamford's famous churches. Over the next 50 years, the Hinds family opened similar successful shops in London. After the First World War, descendents of Joseph Hinds, William and Frank Hinds, split the company in 1924 with 6 shops each under the names of W.Hinds and F.Hinds.
Frank Hinds concentrated on jewellery while his brother diversified. As time moved on, the Hinds business grew and more family members joined. New products were added to the range and new shops were designed to fit the current market. F.Hinds now offers ear piercing in selected stores as well as gift wrapping and jewellery repair services.
At Rings.org.uk, we promote F.Hinds rings and quality jewellery. With over 10,000 rings to choose from, Rings.org.uk is the perfect place to find engagement rings, wedding rings, eternity rings and rings for every occasion.